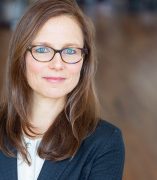 Karen Underhill
Associate Professor and Director of Undergraduate Studies
Polish, Russian, and Lithuanian Studies
Contact
Address:
601 S Morgan St.
Office Phone:
Email:
About
Areas of Specialization
Bruno Schulz and Galician Jewish Modernity; Poland's Multilingual and Pluralist Cultural Landscape; Yiddish Literature & Language; Polish Literary Modernisms; Polish/Jewish Culture and History / Polish-Jewish Relations; Messianism in Romantic and Modern Literature & Philosophy
Additional Interests
Democratic Transition in Central & Eastern Europe
Selected Publications
Bruno Schulz, E.M. Lilien i archeologia polsko-żydowskiego modernizmu" ("Bruno Schulz, E.M. Lilien, and the Archaeology of  Polish Jewish Modernism"), Ruch Literacki  2016:6 (339) (Krakow: Polish Academy of Sciences), 655-680.
"Toward a Diasporic Poland/Polin: Zeitlin, Sutzkever, and the Ghost Dance with Jewish Poland." Poland and Polin: New Interpretations in Polish-Jewish Studies. Irena Grudzinska-Gross and Iwa Nawrocki, Eds. Series: Eastern European Culture, Politics and Societies, Vol. 10. Frankfurt am Main, New York: Peter Lang, 2016.
"What Have You Done with the Book?: The Exegetical 'Encounter' in Bruno Schulz's Graphic Works". POLIN: Studies in Polish Jewry, Vol. 28. Eds. Monika Garbowska, Antony Polonsky, Eugenia Prokop-Janiec and Sławomir Żurek. Oxford: Littman Publishers, November 2015.
"Next Year in Drohobych:  On the Uses of Jewish Absence" – East European Politics and Societies, August 2011, 581-596.
"Writing in the Third Language: Between Sacred and Profane in Gershom Scholem and Jacques Derrida," in The Effect of Palimpsest, edited by Bożena Shallcross and Ryszard Nycz. (Frankfurt am Main: Peter Lang Publishing Group, 2011), 211-226.
"Ecstasy and Heresy: Martin Buber, Bruno Schulz and Jewish Modernity", in (Un)maskingBruno Schulz: New Combinations, Further Fragmentations, Ultimate Reintegrations, edited by Dieter de Bruyn and Kris Van Heuckelom. (Amsterdam: Rodopi, 2009), 27-47.

"Aux Grands Hommes de la Parole: The Verbal Messiah in Mickiewicz's Paris Lectures".  Slavic and East European Journal, Vol. 45, No. 4 (Winter, 2001), pp. 716-731.
Education
University of Chicago, Ph.D. (2011), M.A. in Polish Literature and Jewish Studies
University of Michigan – Ann Arbor, B.A. in Comparative Literature